About Us
SysAdmins creating software for SysAdmins.
Storix® Improves Offsite Backup Management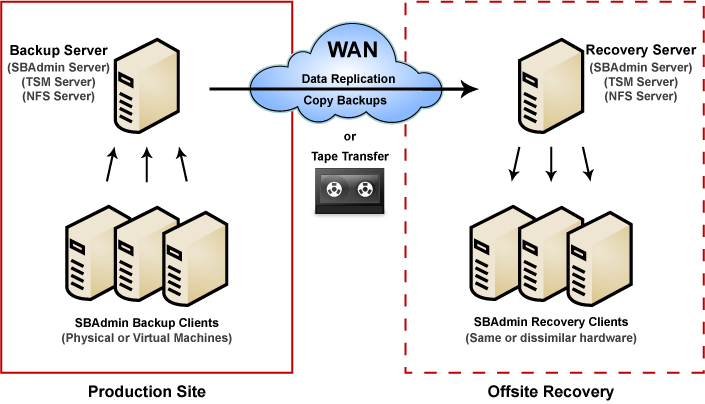 San Diego – July 18, 2013– Storix, Inc., the leader in bare-metal recovery solutions for Linux and Unix systems, today announced the general availability of System Backup Administrator (SBAdmin) version 8.1.2.0.
This update introduces a major new feature to automatically copy completed backups to remote storage in order to simplify user's offsite Disaster Recovery (DR) management. Unlike other backup products, SBAdmin users can easily manage multiple backup servers located offsite from the production datacenter. Whether sending backups offsite to a DR facility, secondary datacenter, or the cloud, customers can rest assure that their mission-critical systems are protected.
Also included in this release, SBAdmin 8.1.2.0 adds support for the latest releases of Oracle Solaris 10 & 11, SUSE Linux, Debian Linux, and guest Linux systems running in Microsoft Hyper-V and Oracle VM virtual environments.
New Features
Automated copy of completed backups to remote storage
Support for Solaris 11 Update 1 & Solaris 10 Update 11
Support for Debian 7 (Wheezy)
Support for SUSE 11 Service Pack 3
Additional driver support for Microsoft Hyper-V guest systems
Additional driver support for Oracle VM guest systems
About SBAdmin
SBAdmin provides Adaptable System Recovery (ASR), the ability to rebuild Linux, Solaris, or AIX systems from bare-metal, giving customers the flexibility to alter the configuration as needed to fit onto any hardware or virtual configuration. The power and flexibility of ASR greatly reduces downtime during disasters or planned outages, exceeding the user's RTO. SBAdmin can also be used for provisioning/cloning of multiple systems and software storage alteration for improved system availability, recoverability and performance.
---