Backup Management
Software designed to scale from a single system to multiple datacenters.
Offsite datacenter protection
Every company needs to keep an off-site copy of their backups, whether they operate from a single location or multiple branch offices. Backups can be stored at a remote backup site, a remote disaster recovery site or to a private cloud service*. But storing backups offsite is only part of the solution. A business continuity/disaster recovery plan must include the ability to recover mission-critical systems in a timely manner. How timely depends on a predetermined Recovery Time Objective (RTO) which weighs the cost of system recovery against loss of operations due to downtime.
* Please note: SBAdmin should not be used on networks that utilize Network Address Translation (NAT) routing when communicating with remote sites.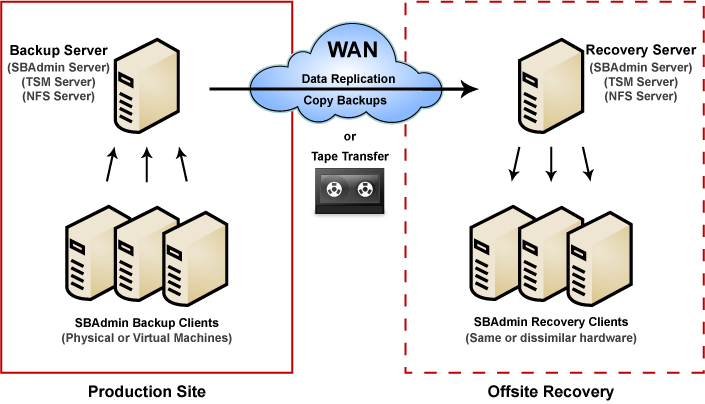 More than just data recovery
There are a myriad of software solutions and hardware appliances for sending data off-site, each touting its ability to backup and restore data quickly and efficiently. But very few address the issue of having systems to restore the data to after a failure or disaster occurs! Storix SBAdmin provides disaster recovery solutions for Linux, AIX and Oracle Solaris servers, from restoring a single server from a remote backup site to rebuilding an entire data center at a remote disaster recovery site.  An SBAdmin system backup completely restores the operating system, applications, user, network and device configuration and optional user data in a single step.
Perform system recovery from local or remote devices
Write backups locally and/or to remote recovery sites

Copy backups written locally (

tape

or disk) to remote recovery site

Replicate backups to remote sites using deduplication appliances

Recover a local system using backups from a remote site

Perform bare-metal recovery to dissimilar hardware (

P2P

) at remote site
Perform bare-metal recovery to different virtual environments (

P2V, V2V

) at remote site